An Easy-to-Use and Storage-Free Video App for Salesforce
What Does It Do
It's simple. Able Video provides your users with an in-context, on-demand,
storage-free video player.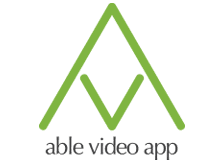 Imagine you're on a record in Salesforce® and need video content. Maybe the context is training or background on a new Account left by the last Account Manager. Until we created the Able Video App there was nothing that allowed you to render a video on your Lightning page in a component. All the apps out there took you away from the record—sometimes to a place outside of Salesforce®—then expected your users to miraculously remember where they started and to figure out how to navigate back to that record.
Able Cloud Advisors worked tirelessly to become a Salesforce® ISV and have it pass the Salesforce® stringent security review so it could be sold on the App Exchange here.